rent a server in only 60 seconds
Register for free
Charge your account
get the money instantly with paysafecard, PayPal, Phone, Credit Card or Sofort-Überweisung
Order the server and start playing
Green IT
Nitrado operates all servers with TÜV certified green energy.
more info
Nitrado News
07.02.2014:
To arms! The Nitrado Battlefield 4 servers are available!

From now on we have official ranked servers for Battlefield 4 available.
Of course these include the popular Nitrado Battlefield Webinterface, the Procon Layer and all other Nitrado features such as:
Immediately online after ordering
All inclusive: Procon Layer, smartphone app, Nitrado interface and much more
Flexibility thanks the Nitrado prepaid system (gameswichting for over 100 games)
Nitrado cloud server for optimal performance
Fast connection
DDoS Protection

Have fun with the new Ranked Battlefield 4 gameservers!
03.02.2014:
Attack of the B-Team, Just Cause 2, Kingdoms Rise

Since a few days new games are in the gameswitching available:
Minecraft Technic Platform - Attack of the B-Team
As the first european hoster offers nitrado servers for the new modpack "Attack of the B-Team". The desired modpack can be selected during installation of the game "Minecraft (Technic Plattform)".
Just Cause 2 Multiplayer
Thanks to a community modification - Just Cause 2 can now be played in the multiplayer. Nitrado offers the server for this great game! Rico Rodriguez returns as the protagonist, aiming to overthrow the evil dictator Pandak "Baby" Panay and confront his former mentor, Tom Sheldon.
Kingdoms Rise
Kingdoms Rise is a Multiplayer Fantasy Combat Game featuring brand new game mechanics within its deep 360° sword fighting system and magic abilities. It is now possible to rent your own Kingdoms Rise gameserver on nitrado.net.
nitrado.net Interface
easy control
Phone Hotline
Instant support

+49 (0) 721 7540 44 44
Mo. - Fr. 10:00 - 18:00

This is a standard German landline number. Please ask your phone provider for the exact cost.

Hotline in German and English only.
Like Nitrado
Be informed about news around Nitrado on Facebook and click "Like"


Testserver
see for yourself
Our servers are
ESL premium certified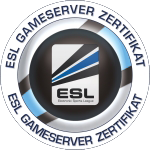 PROTECTION CHECK
The nitrado.net gameservers are ESL ceritified and therefore the first choice for a ESL clanwar.