Nitrado News
25.05.2012:
Counter-Strike: Global Offensive gameservers available
We now offer gameservers for the brand new shooter "Counter-Strike: Global Offensive" (CS:GO). You can install CS:GO in the gameswitching.
Until the game is fully released you can play with the beta version.
nitrado.net Interface
easy control
Phone Hotline
Instant support

0721 7540 44 44
Mo. - Fr. 10:00 - 18:00

Hotline in German and English only.
Like Nitrado
Be informed about news around Nitrado on Facebook and click "Like"


Testserver
see for yourself
Our servers are
ESL premium certified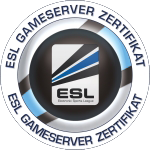 PROTECTION CHECK
The nitrado.net gameservers are ESL ceritified and therefore the first choice for a ESL clanwar.