All racks are connected to the redundant Juniper switch stack. If one switch fails you will not even mention it.
Gameserver connection
All servers are located in Frankfurt am Main (Germany) with a total bandwidth of 320 Gbit.
Direct peerings with the most important carriers like DTAG (Deutsche Telekom), Telia Sonera, Tiscali and many more guarantee low pings all over Europe. Because of this our servers are perfectly suited for international clanwars.
Additionally our servers are also connected to DE-CIX (German Internet Exchange), AMS-IX (Amsterdam Internet Exchange) and LINX (London Internet Exchange) in order to provide a low ping for all players worldwide.
Nitrado is a RIPE member
nitrado.net Hardware
Realtime Stats
Overall Hardware Performance
CPU
14 283 GHz
6 111 Cores

RAM
26 430 GB

SSD space
203 TB

nitrado.net Interface
easy control
Phone Hotline
Instant support

0721 7540 44 44
Mo. - Fr. 10:00 - 18:00

Hotline in German and English only.
Testserver
see for yourself
Our servers are
ESL premium certified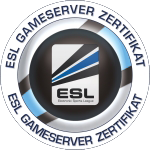 PROTECTION CHECK
The nitrado.net gameservers are ESL ceritified and therefore the first choice for a ESL clanwar.