Your advantage : Nitrado.net

What is Nitrado?
Nitrado is a company owned by marbis GmbH. Nitrado was founded in 2001, and today is the leading provider in the area of gameserver and application hosting with an unique system, which administers gameservers and further hosting applications dynamically and completely automated in the Cloud with a complex procedure.

How does Nitrado work?
The hosting system is a complete self development and can constantly adapted to the current requirements. Thus, a fast response time to market changes is possible to offer a customer-oriented service.
New games, modifications and helpful tools can be integrated immediately into the offer.

What offer Nitrado.net?
Nitrado offers high quality services at an affordable price. The flexible prepaid sytem guarantees a convenient and simple management of all services with no contract period. Services can be changed any time during the operation itself.
There are about each product a free and extensive feature package (eg. MySQL database for gameservers).
Payment
We offer various payment methods where your account gets charged immediately.
Currently these are:
paysafecard
Direct Transfer (Online Banking)
PayPal
Telephone (mobile and landline)
credit card
of course you can also pay by a normal bank transfer, too. The credit will then be available as soon as we've received the payment.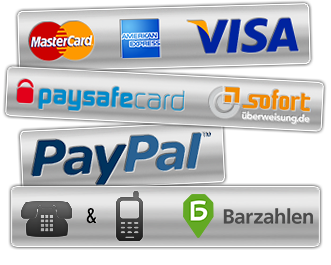 Server Down- or Upgrade
More or less slots? Upgrade to a publicserver, or a voiceserver instead of a gameserver? No problem!
You can switch between all available services (Gameserver, Voiceserver, Bouncer) at any time. The remaining credits from the existing service will then be settled exactly. When you only change the slots or servertype (Clanserver <> Publicserver) all settings and your IP address will remain.
Extend or Reactivate
A server can be extended at any time. When you extend a server the additionally ordered time will be added to the current renting time.

If the rented time is over the server will be set in a stand-by mode. You can then reactivate the server with the same settings withing seven days. The stand-by time can be extended for free up to 14 days.
nitrado.net Hardware
Realtime Stats
Overall Hardware Performance
CPU
14 283 GHz
6 111 Cores

RAM
26 430 GB

SSD space
203 TB

nitrado.net Interface
easy control
Phone Hotline
Instant support

0721 7540 44 44
Mo. - Fr. 10:00 - 18:00

Hotline in German and English only.
Testserver
see for yourself
Our servers are
ESL premium certified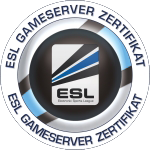 PROTECTION CHECK
The nitrado.net gameservers are ESL ceritified and therefore the first choice for a ESL clanwar.