Technology
To ensure a low ping and lag free gameplay we only use high quality server hardware from leading manufacturers like Intel, AMD, HP, Cisco, SuperMicro, MSI and many more. All servers are located in a datacenter Frankfurt am Main, Germany.
Nitrado does not use desktop components likeIntel i5/i7 CPUs, OCZ SSD and home PC power supplies or tower chassis. Those computer parts are way cheaper than real server components that nitrado use, but lead to problems while running in the data center 24/7. The problems that are avoided with Nitrados hardware are:

Server crash because of missing RAM ECC auto error correcture.

Lags because of auto-underclocking the CPU due to bad cooling in the home pc tower chassis.

Downtime because of a defective power supplies that are not made for permanent operation.

Data loss because of a corrupt hard disk or SSD that are not made for permanent operation.


Backup
To create backups we developed our own software that does daily backups. You can easily restore a backup via the webinterface on demand within seconds.
nitrado.net Hardware
Realtime Stats
Overall Hardware Performance
CPU
14 283 GHz
6 111 Cores

RAM
26 430 GB

SSD space
203 TB

nitrado.net Interface
easy control
Phone Hotline
Instant support

0721 7540 44 44
Mo. - Fr. 10:00 - 18:00

Hotline in German and English only.
Testserver
see for yourself
Our servers are
ESL premium certified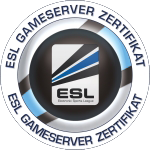 PROTECTION CHECK
The nitrado.net gameservers are ESL ceritified and therefore the first choice for a ESL clanwar.