Registration
To order a gameserver or voiceserver you just need to sign up for free.
nitrado.net Interface
easy control
Phone Hotline
Instant support

0721 7540 44 44
Mo. - Fr. 10:00 - 18:00

Hotline in German and English only.
Testserver
see for yourself
Our servers are
ESL premium certified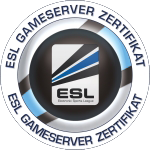 PROTECTION CHECK
The nitrado.net gameservers are ESL ceritified and therefore the first choice for a ESL clanwar.