Nitrado News
14.02.2012:
Ace of Spades available
Ace of Spades is now available for all Minecraft compatible gameservers. The game is a mix of Minecraft and Team Fortress. It is totally free and can be downloaded at ace-spades.com.
nitrado.net Interface
CONTROL FÁCIL
Me gusta Nitrado
Estar informado sobre las novedades en torno a Nitrado en Facebook y haga click en "Me gusta"


Testserver
véalo usted mismo
Nuestros servidores tienen
Certificado premium ESL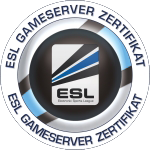 PROTECTION CHECK
El servidor de juegos nitrado.net tiene certificado ESL y por tanto es la primera opción para una competición ESL de clanes.