Gameserver Features
Publieke server
Publicserver Basic
EPS publicserver
Slots
4 - 200
4 - 100
4 - 100
Gameserver Cloud
Exclusief RAM


100% real RAM gereserveerd

Wachtwoord optioneel
Minecraft, Terraria,
Ace Of Spades Server
Battlefield 3 + 4
Gameserver Features
Gameswitching
80 Spellen
77 Spellen
80 Spellen
Meteen online
Totale toegang


FTP en webinterface

Back-up
MySQL Database
Subdomein
Eigen IP
Premium Traffic
Game Specials
SourceTV / HLTV
HLStatsX
Minecraft Overview kaart
Max. FPS
Bestellen
Prepaid
Minimum looptijd / Opzegtermijn
Geen
Geen
Geen
Aanbeveling

Universeel voor alle spellen (incl. Minecraft, Battlefield 3 + 4 + Hardline) te gebruiken. Hoogste performance dankzij game server cloud.

Ondersteunt alle spellen, behalve Ace of Spades Classic, ARK: Survival Evolved (PC), ARK: Survival Evolved (PS 4), ARK: Survival Evolved (Xbox One), ARK: Survival of the Fittest, Avorion, Battlefield 3, Battlefield 4, Battlefield Hardline, Blackwake, Conan Exiles, Dark and Light, Empyrion - Galactic Survival, Empyrion - Galactic Survival (Experimental), Farming Simulator 15, Farming Simulator 17, Farming Simulator 2013, GRAV, Hellion, Hurtworld, Just Cause 3 Multiplayer, Killing Floor 2, Life is Feudal: Your Own, Medieval Engineers, MetaTron, Minecraft, Out of Reach, Project Zomboid, Reign of Kings, Rising Storm 2: Vietnam, Rising World, ROKH, Space Engineers, Star Made, Starbound, Starbound (Unstable - More beta than beta), Terraria (tShock & Vanilla), The Forest, Unturned, Valnir Rok

Universeel voor alle games (incl. Minecraft en Battlefield 3 + 4) bruikbaar. Speciaal voor ESL Clanwars en de hoogste performance bij CS1.6, CS:S en CS:GO.

Prijs per maand

vanaf 5.20 US$
vanaf 3.90 US$
vanaf 7.80 US$
Inrichtingskosten
Gratis
Gratis
Gratis
Bestellen
Nu instellen
Nu instellen
Nu instellen
Er zijn geen verdere kosten. Inclusief alle voor de game server genoemde features. De genoemde prijzen zijn inclusief BTW.
TOP GAMES
Alle spellen
Een game server huren en alle spellen* exclusief in de Nitrado Cloud installeren.
Is het gewenste spel niet in onze lijst te vinden? Stuur ons een verzoek en wij nemen het naar mogelijkheid op in de gameswitching.
* Je kunt tot vijf spellen tegelijk installeren. Let erop dat maar een spel tegelijk actief kan zijn. Sommige spellen zijn geen onderdeel van het product 'Publicserver Basic'. Een lijst van deze games kan gevonden worden in het menu 'Producten' > 'Gameserver'.
Nitrado Public Cloud
Je persoonlijke server in secondes.
High Performance
Elke server gebruikt de laatste Intel Xeon E5 v4 processors.

SSD Snelheid
Hoge snelheid dank zij de centrale SSD Opslag.

DDoS Bescherming
Het netwerk is beschermt met een hardware DDoS Bescherming

De beste connectie
Directe peering met grote netwerken en een 1Gbit/s netwerk connectie.
Volledige flexibiliteit
Upgrade en downgrade zijn op elk moment beschikbaar.

Voor ontwikkelaars
Met dank aan de Nitrado Cloud API is het ook zeer gebruiksvriendelijk voor ontwikkelaars.
Cloud Server
De gunstige variant voor projecten met veel planningsvrijheid.
| | Cloud Server S | Cloud Server M | Cloud Server L | Custom |
| --- | --- | --- | --- | --- |
| CPU | 1 vCore | 2 vCores | 4 vCores | Tot wel 44 vCores |
| RAM | 512 MB | 2 GB | 4 GB | Tot wel 128 GB |
| SSD opslag | 20 GB | 40 GB | 80 GB | Tot wel 5120 GB |
| Verkeer | 2 TB | 2 TB | 2 TB | Tot wel 20 TB |
| Prijs | | | | |
| | or | or | or | |
Cloud Server Dynamic
Volledige flexibiliteit dank zij een korte miminum runtime. De server kan worden geannuleerd of gedownload met volledige restbedrag retour op elk gewenst moment.
| | Cloud Server Dynamic S | Cloud Server Dynamic M | Cloud Server Dynamic L | Custom |
| --- | --- | --- | --- | --- |
| CPU | 1 vCore | 2 vCores | 4 vCores | Tot wel 44 vCores |
| RAM | 1 GB | 2 GB | 4 GB | Tot wel 128 GB |
| SSD opslag | 20 GB | 40 GB | 80 GB | Tot wel 5120 GB |
| Verkeer | 2 TB | 2 TB | 2 TB | Tot wel 20 TB |
| Prijs | | | | |
| | or | or | or | |
Uniek Web Interface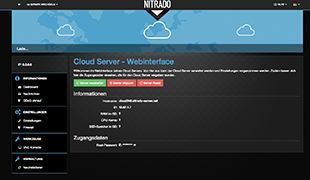 Nitrado geeft altijd hoge prioriteit aan gebruiksvriendelijkheid en beschikbaarheid. Ook voor de Public Clouds. De Nitrado Web Interface bied altijd toegang tot de belangrijkste features van je server.
HPE 3PAR StoreServ SSD Storage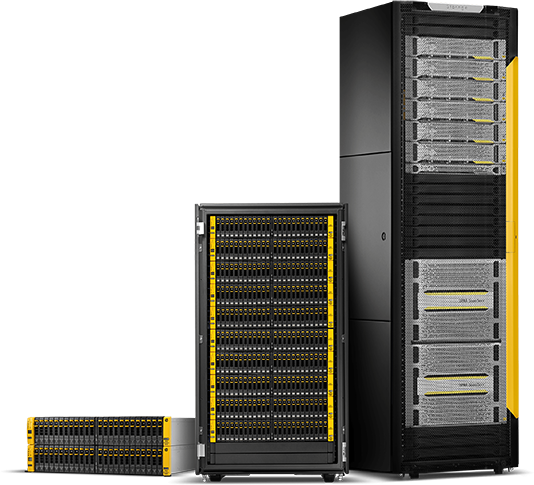 Je servers data binnen de Public Cloud word opgeslagen op een centrale opslagserver. Dit resulteert in een veel hogere efficiëntie en kwaliteit in data integriteit.
Net als alle overige producten, streeft Nitrado naar het beste resultaat met het high-end ardware. Voor opslag word dit onder andere gedaan met top kwaliteit SSD opslag, maar ook door gecentraliseerde opslag op high-performance opslag via HPE.
Ook handig voor ontwikkelaars
De Nitrado Public Cloud is ook geschikt voor ontwikkelaars. Verschillende tasks kunnen volledig automatisch via de moderne REST API. Kom vooral langs op onze officiële Github Account voor de officiële SDKs.
State-of-the-Art Open Source Technologie
Voor de Public Cloud heeft Nitrado de meest recente open source technologieën en contributies van diverse projecten beschikbaar om door iedereen gebruikt te worden.
FAQ General Questions
Wat is een Public Cloud?

A Public Cloud is a great combination of enormous computing capacity with great flexibility. This consists of a central enterprise SSD storage at Nitrado, which is in itself fail-safe due to redundant RAID controllers, as well as redundant power supply. The other major parts are the so-called Compute Nodes on which the Cloud Servers are started. These are often referred to as vServers, VPS or Root Servers. The Compute-Nodes are constantly expanded to guarantee optimal server performance. This configuration also enables live migrations of the instances to provide enough power at load peaks.

Wat is een Cloud Server?

A Cloud Server is a Virtual Server, also known as "vServer", "VPS" (Virtual Private Server" or Root Server, which can be dynamically expanded or reduced. This server shares resources of a so-called compute node (see "What is a public cloud?") and has a very high availability through the infrastructure provided by Nitrado. The cloud server can be individually configured and has the number of CPU kernels (vCPU), memory, SSD storage, traffic, number of IP addresses, as well as the operating system.

Wat kun je doen met een Cloud Server?

With a Cloud Server rented by Nitrado, all services which can run under the selected operating systems can be installed. This includes from game and voice servers, like Minecraft, ARK: Survival Evolved, as well as Teamspeak 3 servers, to web hosting (for e.g. wordpress or forums and wikis). On such a vServer or VPS, of course, several applications can be installed and started simultaneously.

Hoe kan ik inloggen op de Cloud Server?

On a cloud server, as with vServer or VPS, there is full access to the operating system. For Linux, by default, access is available as a "root" user via SSH (for example, with PuTTY) right after the installation. Windows Servers, on the other hand, can be managed by Remote Desktop (RDP) as an administrator.

Hoe kun je Game Servers installeren op een Cloud Server?

Nitrado offers special images for which an extended web interface for installation and administration of services (for example Game Servers) is available. A background process (daemon) is started on the rented cloud server, which communicates with the nitrado backend in an encrypted form to perform actions in the web interface. This allows fast and secure communication between the web interface and the server. New game or voice servers can then simply be installed and configured via a few clicks.

Hoe lang duurt het voor een Cloud Server is aangemaakt en klaar is voor gebruik?

The setup, as well as downgrades and upgrades of the Nitrado Cloud Server are provided or executed in a few seconds fully automated.

Zijn er extra kosten? Wat gebeurt er als ik de Monthly Traffic overschrijd?

At Nitrado we believe in the concept of prepaid services, and this has also been implemented with our cloud servers.
You have total control over all incurring costs. Even if you exceed your monthly ultra speed traffic volume, the bandwidth will only be reduced to 100 MBit/s - still enough for the vast majority of applications, and without additional cost.

You can then choose to book additional ultra speed traffic if higher bandwidth is required.

Wie heeft toegang tot mijn server?

Only a selected Team of highly experienced Nitrado Administrators have access to the Cloud Server infrastructure. They are also the developers and managers of this environment.

Our internal policies prohibit any access to data within the Cloud Server without our explicit consent. We are committed to the ethics code for system administrators and, as a German company, are additionally bound to the (internationally unique and especially strict) German Data Protection Act.

Is er een API? Wat is de NitrAPI?

At Nitrado, we are proud to meet, and in many cases surpass, the current best practices. For the next few years, we are striving to achieve industry's certifications, which will confirm the safety of our systems from the official point of view. Our solution is designed in such a way, that it can also be provided to companies with particularly high demands.

When talking about security in hosting environments, there are a lot of small aspects which must all be correctly implemented. Some are visible to the customer (for example, the handling of employee passwords), but the majority concern internal processes.

This includes, among other things: proper risk analysis, secure defaults and server hardening, a security patching workflow, strict code signature validation, internal network protection, secure and standardized workstation configuration and more.
FAQ Technical Questions
Is er een API? Wat is de Nitrapi?

Many functions on our website and the web interface are also accessible via an API (programming interface). We use the Nitrapi internally for our own web interface and make all changes immediately available to the community.

For example, you can add a button on your own website to restart a server or to view the status. You would like to order 500 servers? No problem! (Presupposed you have the credit, but also for recharging accounts there is an API!)

This also applies to our gameserver offer and is unique in this form in the industry.

More information here: https://doc.nitrado.net/

Java SDK: https://github.com/nitrado/Nitrapi-Java

PHP SDK: https://github.com/nitrado/Nitrapi-PHP

Swift SDK: https://github.com/nitrado/Nitrapi-Swift

It is also very easy to use with other programming languages, you need just a RESTful HTTP library.

Welke virtualization method gebruikt Nitrado?

The Nitrado Cloud Servers are fully virtualized thanks to KVM (Qemu). Compared to more inflexible solutions such as OpenVZ, this method has the advantage that, for example, Linux can be installed with its own kernel. The hypervisor (compute-node) - the basis of the virtual servers - offers the highest security thanks to the SELinux enabled.

Welke Operating Systems (OS)zijn beschikbaar?

In our Nitrado Cloud Servers, various operating systems (images) are available for every need. These can be roughly divided into Linux and BSD, as well as Windows. The following images are currently available: Arch Linux (Plain), CentOS 7 (Plain), Debian 8 (Plain), Debian 9 (Plain), Fedora 25 (Plain), Fedora 26 (Plain), Ubuntu 16.04 LTS (Daemon), Ubuntu 16.04 LTS (Plain), Ubuntu 17.04 (Plain), Windows Server 2012 R2 Standard (Plain), Windows Server 2016 Standard (Plain)

Hoeveel IPs heeft een Cloud Server?

Each Nitrado Cloud Server receives an IPv4 and an IPv6 address by default. Up to ten IP addresses can be ordered. Each IP address assigned to it automatically receives an IPv4, as well as an IPv6 address.

Hoe snel is een CPU Core/vCore?

The CPUs (Processors) used by Nitrado in their Cloud Server Compute-Nodes are Intel Xeon E5-2699v4 2.2-3.6GHz. Every Compute Code includes two of these Processors, which results in 44 (real) CPU Cores pero Node. Special CPU offers for special needs are planned for 2017.

Wat is de bandbreedte van een Nitrado Cloud Server?

In order to guarantee the highest connection speeds at any time, each VM is connected with symmetrical 1 Gbit/s. This speed is also achieved in real cases. The actual data rate depends, of course, on other factors (protocol overhead, bandwidth of the remote host, ...). The connection of the physical servers (Hypervisor) is, as expected, many times higher (10-20 Gbit/s).
Voor grote projecten maken we graag een individuele offerte
Contacteer ons
Voiceserver
Om binnen de clan of met vrienden te communceren is een voice server onmisbaar. De volgende voice servers worden op dit moment door nitrado.net aangeboden:
Teamspeak 3
Ventrilo 3
Mumble
Voice server Features
Complete eigen server (niet slechts één kanaal)
Volle adminrechten
Webinterface (bijv. voor herinstallatie of opnieuw opstarten)
Alle codecs beschikbaar
Teamspeak 3 Features
Ongelimiteerde FileTransfer (inclusief Traffic en opslag)
Inclusief gesprek versleuteling
inclusief Psychokiller Webinterface
Back-ups via Webinterface maken
Bouncer
Een bouncer is een soort proxy voor de Internet Relay Chat, kortweg IRC genoemd. Daarmee is het mogelijk om je eigen IP te maskeren en altijd online te zijn. Als je offline bent is de bouncer net een antwoordapparaat voor privé berichten (queries).
IRC Bouncer Features
Ident vrij te kiezen
24h in IRC bereikbaar
Ondersteunt ieder IRC netwerk
Eigen IP is gemaskeerd
Inclusief Traffic
Webinterface voor makkelijk beheer
Webspace
Webspace packages are not available yet at the selected hosting location. All webspace accounts are hosted in Germany.
Beginner
Pro
Expert
Opslag capaciteit
500 MB
2.0 GB
4.0 GB
Traffic
Fair use
Fair use
Fair use
Domains inclusief
1 Subdomein*
1 Subdomein*
1 Subdomein*
Max. domains
5
10
Onbeperkt
Subdomeinen
50
100
250
E-mail Features
E-mail Adressen
50
150
300
E-mail Postvakken
50
150
300
IMAP
POP3
Webspace Features
FTP Accounts
5
10
20
MySQL
10
25
50
PHP
Really fast SSD Storage
PHP Features
PHP Versie
5.3, 5.4, 5.5, 5.6, 7.0, 7.1
5.3, 5.4, 5.5, 5.6, 7.0, 7.1
5.3, 5.4, 5.5, 5.6, 7.0, 7.1
Memory Limit
128 MB
256 MB
256 MB
Allow URL fopen
IonCube loader
Bestellen
Bestellen
Er onstaan geen verdere kosten. Alle genoemde features voor de webspace zijn inclusief. De aangegevene prijs bevat BTW. Per pakket is een vooringevoerde subdomain inclusief.
*Eigen Top-Level domeinen (bijv mijnclan.nl of mijnserver.net) zitten niet in het pakket en kunnen optioneel bijbesteld worden. Het webspace paket bevat een vooringevoerde gratis subdomein van nitrado.net.
Domeinen
Vrije keuze van een domein
oneindig aantal subdomeinen en verwijzingen
Werkt met iedere server en webhosting
Vrije keuze van nameservers
direct registreren dankzij het prepaid systeem
Domein verhuizen naar Nitrado
eenvoudig domeinbeheer