Nitrado Cloud Servers are available now!
The wait is finally over: After two years of development and an extensive beta phase, Nitrado is happy to announce the official launch of its new Cloud Server product.
Originally we wanted to talk about Nitrado's smartphone apps this week, but there's something more important to talk about: Nitrado Cloud Servers are now available for orders!
Rent your own Cloud Server now!
What's a Cloud Server?
Cloud Servers host a complete operating system, which means Windows Server or one of many Linux distributions. While other Nitrado products aim towards offering a single service with an easy-to-use interface (like a game server or voice server), Cloud Servers provide maximum freedom and flexibility: Each customer decides which services they want to install on their Cloud Server and is thereby a real administrator on their own system.
Cloud Servers are virtual servers. But they're distinct from the traditional "vServer" or "VPS", especially in terms of quality, by employing a full KVM virtualization with fixed resource allocation. Whenever we hear the term "VPS", we instantly think of way too many servers fighting over too few of hardware and resources. With our Nitrado Cloud Servers this is never the case: When you order a specific capacity, you get that capacity.
Instead, at Nitrado, virtualization stands for flexibility and safety: Other than "root servers" - meaning non-virtualized, physical machines - a Cloud Server's resources can be upgraded or downgraded at any time when requirements change. Need a few CPU cores and a few gigabytes of RAM more for the weekend? No problem, with a Nitrado Cloud Server you can!
Additionally, with Nitrado Cloud Servers, no one has to worry about hardware failure: Regardless if it's power supply units, hard drives, switches or network cards, Nitrado Cloud Servers are protected against failures in many different ways and can, if necessary, even be moved to completely different hardware - while still running with no service disruptions!
The best Hardware for the best Performance
An advertised CPU core often does not equal a true CPU core. That's why Nitrado employs 2x Intel Xeon E5-2699v4-CPUs per host for our Cloud Servers. Those CPUs do not only belong to the newest generation of processors, but they're also specifically designed for server operations. The same goes for the self-correcting ECC DDR4 RAM, the redundant 10 Gigabit network cards and the central SSD Storage using the "3PAR StoreServ" feature by Hewlett Packard Enterprise, which offers a variety of advantages over local SSD drives, including performance, stability, and easy management of backups. So you get truly what you pay for!
The hardware of the Nitrado Public Cloud has been described in greater detail in a previous article.
Cloud Apps for a Simple Start
Server administration is not an easy task and can often seem intimidating. But at Nitrado we have a vision that it should be possible to start with little prior knowledge and still achieve good results in a quick manner. This is why we developed the Nitrado Cloud Apps: These applications are pre-built software packages that can be installed on a Cloud Server with just a few simple and easy clicks. We also have a built in update mechanism which can be used to update these apps that you have installed on command.  Keep up to date with the latest versions of the apps, for example after a Steam Update, and to update your apps is very simple as well, by just selecting the "Update" button in the Web Interface under the applications tab.
We're happy to announce that on the launch of our Cloud Servers the games: 7 Days to Die, ARK: Survival Evolved, Arma 3, Counter-Strike: Global Offensive, Garry's Mod, Minecraft and Rust, as well as the tool TeamSpeak 3 will be available as Cloud Apps. Simultaneously, additional Cloud Apps are currently in development that will make configuration of commonly used, professional server software a piece of cake. We're also looking forward to receiving our customer's ideas and suggestions for additional new Cloud Apps for the future.
In the near future, we are also looking to implement other apps such as Wordpress and Seafile for quick and easy installation and configuration. We use industry standard software such as Dockers to make Administration as simple and transparent as possible.
Professional Web Interface for Easy Management
On a server there are a number of tasks that occur regularly: For example quickly finding and editing a file, watching log files, editing firewall rules or restarting a service after a configuration change. By installing the free in house developed Nitrado Daemon these tasks can be performed quickly and easily through the Nitrado Web Interface, without having to login directly to the server. Here we've composed a GIF that shows a selection of different features in our web interface:
While developing these qualities of life features we made sure that they support, but not replace an experienced administrator. As an example, the Nitrado Daemon identifies and respects manual changes in configuration files instead of simply overwriting them. And of course installing the Nitrado Daemon stays completely optional - it unlocks a number of quality of life features, but it's not necessary to operate the Cloud Server. During the development of our Daemon, safety and security were given top priority. All communication to and from the Daemon with our backend is all encrypted by our central interface the NitrAPI via TLS. Each server identifies itself with it's own unique security certificate with our NitrAPI and vice versa.
Other features such as managing databases, monitoring, notification of pending security updates, and configuring system services such as SSH are already in the process.
Other technologies we use in our web interface and our Daemon are programs such as Docker, systemd, journald and UFW, to ensure maximum transparency.
Smart Phone Apps for Mobile Access
Even though we still want to dedicate a separate article to our smartphone app for Android and iOS, we cannot leave it out of this list. On top of a variety of other features, it also allows the use of all the quality of life features listed above while on the go. We have prepared a GIF that shows one of the apps in action: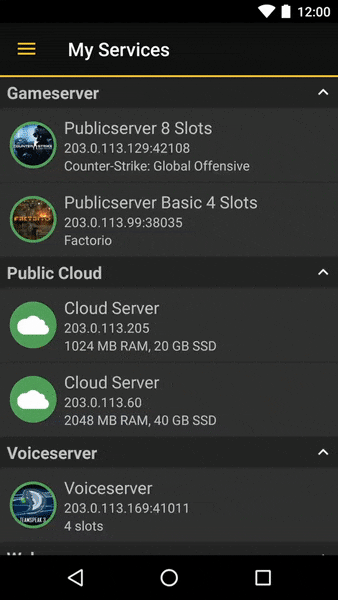 The Nitrado Smartphone App can be downloaded on the Google Play Store and on the Apple App Store respectively.
NitrAPI for Individual Solutions
The NitrAPI (Nitrado Application Programming Interface) is a programming interface that can be used to completely automate ordering, configuration and management of Nitrado services. It can be used to order additional resources for a Cloud Server, as soon as the application is running if the customer needs them - or to automate any other feature found in the Nitrado Web Interface or in the Nitrado Smart Phone Apps.
The possibilities for using the NitrAPI are too much to describe them in detail within this article. For interested developers we're recommending the documentation, as well as our earlier article about the NitrAPI.
Your Cloud Server for Your Project
Now that Nitrado Cloud Servers are available for everyone, we're looking forward to see which applications they are used for.
What project will you use the Nitrado Cloud Servers for?
Assemble your personal configuration today and share your plans and ideas with us!
Your reaction
Comments
Don't have a Nitrado account yet?
Register within seconds and you are immediately ready